Effective May 2, 2022, Personal Mail will no longer be accepted by Hamilton County Justice Center.
All Personal Mail must be addressed in the following manner:

**Securus ID# is comprised of the Inmate's Control number + 2 digit birth month + 2 digit birth day
For example, if Inmate John Smith has a control number of 1462233 and was born on July 4, 2000 his Securus ID# is 14622330704.
Control number and date of birth can be found here: Inmate Search by clicking the "Details" link on the desired inmate.
The Securus ID# can be found after logging into your Securus account via "Find Contact" under "Securus Debit". See below: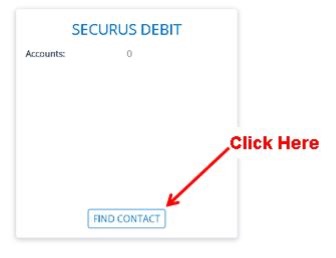 Enter the Inmate's First Name and Last Name, selecting State of Ohio and Facility as HAMILTON COUNTY JUSTICE CENTER or TALBERT HOUSE TREATMENT FACILITY depending on where they are housed. Then select "Search".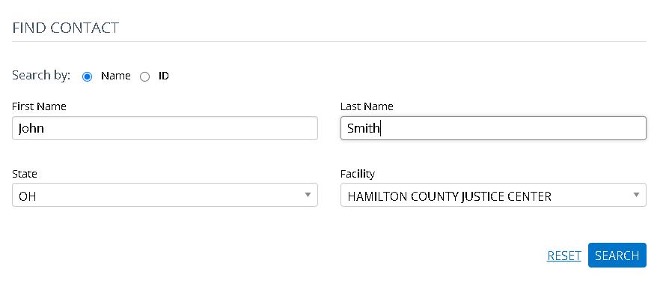 Once the mail is received at the Securus Digital Mail Center it will be digitally scanned and available to be viewed on tablets and kiosks or printed and delivered by the facility to inmates without access to a tablet or kiosk.
Please Note:
Failure to properly or legibly address the envelope may result in your mail being returned or delayed.
Pictures, drawings etc. will be accepted for scanning or printed and delivered in the same manner.
Anything that cannot be scanned will be returned to sender. This includes, but is not limited to, paper that exceeds 8.5 x 11 inches, all non-paper items and bound items, such as booklets or books.
All packages and certified mail will be returned to sender.
Any persons sending in any original personal documents, civilian pictures, drawings, etc., that wish to have these returned to them must include a self-addressed, stamped envelope included with the original mail.
The following items must be mailed directly to the facility:
Legal Mail: Legal Mail must bear the return address.
Publications: Directly sent in from a publisher, distributor, or authorized retailer (as described in the Inmate Handbook and facility procedure). These items must be addressed directly to the facility, as follows:

Money Orders: All money orders must state "ATTN: INMATE ACCOUNTS" and be addressed as follows: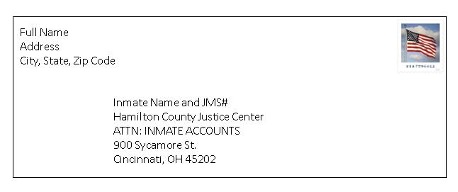 Any money order envelopes that do not state "ATTN: INMATE ACCOUNTS" will be returned to sender.
The inmate's name and JMS Number must be on all money orders. No checks will be accepted. No correspondence should be sent along with the money order. Any letters or other correspondence received with the money order will be returned to sender. All incoming mail will be inspected for contraband