Get quick, clear answers to your questions.
The Hamilton County Sheriff's Office can give you the information you need on inmates, policies, concealed carry permits, property auctions, reporting a crime, and more.
We want you to feel that you are being protected, heard, and served well.
We believe you shouldn't have to sift through confusing information to find what you need. Sheriff McGuffey and the Hamilton County Sheriff's Office are committed to transparency, building trust, protecting our citizens, and listening to the ideas and concerns of our community.
Serving the Residents of Hamilton County for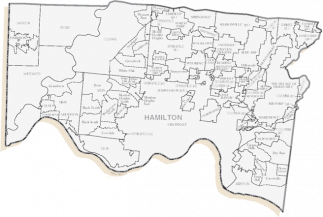 We recommend starting with the most sought-after topics. If you need more assistance, we're here to help.
Sheriff Charmaine McGuffey is a 33-year veteran of the Hamilton County Sheriff's Office, and is the highest ranking woman in the history of the Sheriff's Office. She held the rank of Sergeant, Lieutenant, Captain, and Major prior to being elected Sheriff in November 2020.
For Emergencies, dial 911
CAREERS WITH THE SHERIFF'S OFFICE
The Hamilton County Sheriff's Office is a progressive law-enforcement agency with many career advancement opportunities.
Few are called to a career in law enforcement. Fewer still can meet the rigorous standards required of a Hamilton County Deputy Sheriff. If you are ready for a challenging and fulfilling career, explore our hiring process and qualifications.
This division delivers training in accordance with the Sheriff's policies, as well as state and federal standards, information systems, and oversees warrants, records, and identifications.
This multi-faceted operation has diverse responsibilities, which include: court security, building security, public auction of properties, felony warrant and indictment, prisoner transportation, registration of convicted sex offenders, and more. 
We are responsible for the operation of all adult detention facilities in Hamilton County that are under the jurisdiction of the Sheriff's Office. This includes 437 uniformed Corrections Officers, Supervisors, and support service personnel.
We provide primary police service to 12 unincorporated townships within Hamilton County, and work hand-in-hand with officers on the road.
Members of the HCSO Command Staff and Community Affairs division were excited to present the first-ever HCSO Teacher of the Month Award on October 25th.
READ MORE